Maximum electricity prices for embedded networks and other exempt sellers review 2020
We have made a draft decision on the maximum prices exempt sellers may charge embedded network customers.
Consultation paper

11 February 2020

Draft decision

6 May 2020

Public forum (online)

28 May 2020

Submissions to our draft decision close

15 June 2020

New prices are implemented

1 September 2020
Overview
We have made a draft decision on the maximum prices exempt sellers may charge customers in embedded networks.
From 1 September, we propose that the 2020 Victorian Default Offer prices be the new maximum prices for all households and most businesses in embedded networks. Our draft decision means residential customers could save from $180 to $370, while small business customers could save between $900 to $2,200 annually.
We are seeking stakeholder feedback on our draft decision, and invite you to register for our public forum (online) via Eventbrite. General comments and formal submissions to our draft decision should be made by 15 June 2020 via Engage Victoria.
Our draft decision
Our draft decision is that the maximum price for residential and small business customers (consuming less than 40 megawatt hours of electricity per year) within embedded networks will be set at the level of the Victorian Default Offer (VDO), covering most embedded network customers. For a relatively small group of customers (including large businesses), we have not applied the VDO as the maximum price – our draft decision explains why.
New maximum prices are proposed to apply from 1 September 2020. We think this provides a reasonable timeframe to consult on our draft decision given the current community focus on responding to the coronavirus pandemic. It also allows a reasonable transition period for many small businesses such as caravan parks.
What is an exempt seller?
Some electricity sellers are exempt from requiring a retail licence. Generally exempt sellers buy electricity at a 'gate' meter, on selling it to individual customers.
Exempt sellers who sell electricity to residential and small business customers through an embedded network may include:
apartment buildings
caravan parks
retirement villages
shopping centres
rooming houses.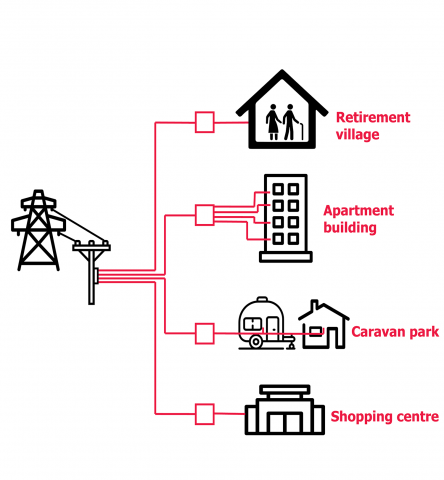 Resources
Submissions to consultation paper