Annual reports
Our annual reports review our performance for each financial year.
Overview
View the latest annual report
Our Annual Report 2017-18 gives you an overview on work we completed, how we performed on key goals, and what we plan to do in the future. 
As part of our annual reporting requirements, we publish a list of the consultants we've engaged for the previous financial year. This document should be read in conjunction with our Annual Report 2017-18.
Key highlights from 2017-18

2.4 million customers benefited from steady or falling water prices
The lowest water bills in Australia will continue to be found in Victoria after the state's water regulator completed its 2018 water price review, approving prices for the remaining 12 of the state's water businesses. 

87,000 electricity customers could access more information on their suppliers and sellers
From July 1 2018, residents and tenants of sites where electricity is supplied through a private electricity network – known as an embedded network – will have access for the first time to:
a new online register telling them who their supplier is, and who to complain to if there's a problem
help from the Energy and Water Ombudsman (Victoria) if they can't resolve their dispute.

76 councils complied with rate cap requirements
From our chairperson
'This is my tenth annual report as chair of the Essential Services Commission. I have never been prouder of our achievements than in the past year. It was a year marked by nationally and internationally recognised initiatives that have changed the regulatory landscape in Victoria.' 

- Dr Ron Ben-David, chairperson of the Essential Services Commission 
Read the foreword from our CEO, John Hamill. 
Our people 
In 2017-18, our people and culture team:
participating in a combined mentoring program with the Department of Premier and Cabinet and the Department of Treasury and Finance 
updated the way we record and measure performance goals in August 2017
installed 12 tabletop standing desks and thirteen electronic rising desks
launched a flexible work toolkit, which is designed to provide guidance and knowledge on why working flexibly is important and outlines flexible work options available to employees
supported 28 externally advertised recruitments and worked on updating recruitment forms to make them more intuitive for hiring managers.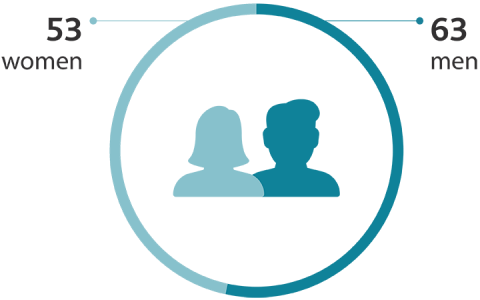 View our careers page, and view information about us and our leaders. 
Financial overview
We recorded an operating surplus of $0.3 million in 2017-18 compared to $2.1 million in 2016-17. Our total revenue has increased over the past five years (53 per cent since 2013-14) as a result if an increase in our regulatory functions (for example, the introduction of the Fair Go Rates system for higher cap applications, and expanded customer protection responsibilities in energy) and expansion of the VEET program. 
Our income 2013-14 to 2017-18 ($ million)
How we communicate
In 2017-18, we continued to build an understanding of what we do, highlight our value and demonstrate our effectiveness and thought leadership.
We conducted our largest ever reputation survey
The results showed significant improvements and enabled us to develop a reputation strategy to continue improving our results.
| | | | |
| --- | --- | --- | --- |
| Dimension | 2017 | 2018 | External benchmark |
| Overall satisfaction | 58% | 61% | 67% |
| Stakeholder consultation and engagement | 68% | 75% * | 69% |
| Outcomes and decisions | 53% | 59% * | 55% |
* indicates that we exceeded the external benchmark.
We introduced 'plain English' as our standard way of writing
Plain English aims to present information using clear and unambiguous writing. In 2017-18, we continued to embed a plain English culture through in-depth staff training, developing essential staff writing resources, and providing support on all publications. 
We developed a stakeholder engagement framework
The framework provides a range of ways for all stakeholders to contribute to our work and centres on five principles:
We are transparent and accountable.
Our engagement is considered, planned and genuine.
Our engagement is inclusive.
Our information is clear, accessible and simple to understand.
We listen and learn to improve our consultation and engagement.
The principles are supported by guidelines that tell you what you can expect from us when we engage on a project or program of work.
Learn more about our submission policy. 
Read more about our performance
Read the full Annual Report 2017-18 for a more detailed breakdown of our performance by team, and our work on key projects. 
Got questions?
Contact us for more information.