VEU engagement plan
Outlines our priority initiatives for the year 2019-20
The Victorian Energy Upgrades (VEU) program helps reduce Victoria's greenhouse gas emissions by providing access to discounted energy-saving products and upgrades via accredited businesses.
We regulate the program participants and administer it in accordance with the program's Act and regulations. The Department of Environment, Land, Water and Planning is responsible for the design of the program and its regulations.
Our vision and objectives
Our vision is to be recognised as a respected, independent and effective regulator of the program.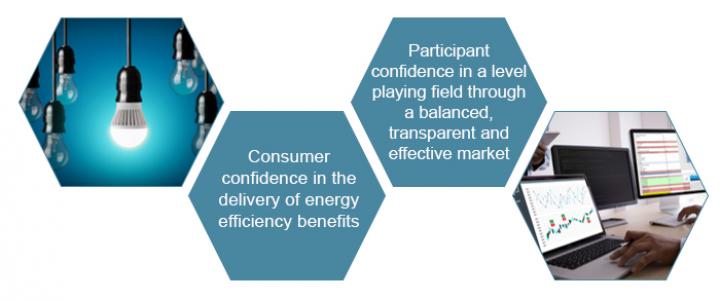 Operational objectives
Over the 2019-20 year, we will build productive relationships with industry and other key stakeholders to deliver the following operational objectives:
Improve stakeholders' perception of us as a balanced, transparent and effective regulator.
Improve VEU compliance through improved mutual understanding.
Promote the uptake of VEU activities to strengthen the resilience of the program.
Leverage our reputation, information and experience to influence government and other stakeholders in delivering positive energy efficiency outcomes.
This plan builds on work the Essential Services Commission is already doing to engage with stakeholders by providing a framework for meeting the above operational objectives.
Our engagement initiatives for the year
The below table outlines our priority engagement initiatives for 2019-20. These initiatives have been chosen based on their alignment with our operational objectives and reputation survey dimensions, available resources and ease of implementation. 
Initiative
Purpose
Workshops for existing stakeholders
To address specific stakeholder information needs (e.g. assessment process)
Workshops for new stakeholders
To promote activities, and identify and reduce barriers to entry for new stakeholders (particularly in respect of low uptake activities)
Workshop/forum targeting energy retailers 
To address specific issues faced by energy retailers under the program
Engagement as part of upgrade to IT system
To involve stakeholders in designing and/or testing of our planned new IT system
Increased knowledge sharing among VEU officers on the application of VEEC assessment rules 
To ensure consistent stakeholder outcomes/experience 
VEU staff decision-making training 
To ensure decisions are delivered that:

are independent, accurate, evidence based, consistent, and balanced, and appropriately considers impact on market
provide clarity/transparency around how stakeholder input is factored into final decision

Log of decisions on website
To provide stakeholders with improved transparency around decisions made 
Measuring success
We will measure success by identifying upward movement across indicators aligned with our objectives for the year
improvement in the commission's reputation survey outcomes for the division - an average 10 per cent improvement across all key indicators over two years
increased engagement with industry stakeholder groups in 'low' uptake activities 
increased engagement with Victorian government and other stakeholders in delivery of positive energy efficiency initiatives/outcomes.
Success will also be measured by positive feedback provided by stakeholders after each stakeholder interaction.
Useful resources
Learn more about our engagement plan, including our list of stakeholders and additional proposed engagement initiatives for the year.