VEU engagement plan
Outlines our priority initiatives for the year 2020-21.
The Victorian Energy Upgrades (VEU) program helps reduce Victoria's greenhouse gas emissions by providing access to discounted energy-saving products and upgrades via accredited businesses.
We regulate the program participants and administer it in accordance with the program's Act and regulations. The Department of Environment, Land, Water and Planning is responsible for the design of the program and its regulations.
Our vision and objectives
Our vision is to be recognised as a respected, independent and effective regulator of the program.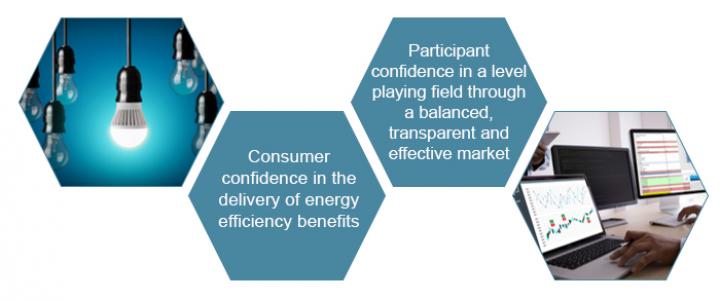 Our engagement objectives for 2020-21
Over the 2020-21 year, we will build productive relationships with industry and other key stakeholders to deliver the following operational objectives:
assist our stakeholders in their economic recovery post coronavirus.
work with other government agencies to promote uptake of activities to strengthen the resilience of the program.
Our engagement activities will be delivered while ensuring we continue to safeguard the integrity of the program. 
Our engagement activities for the year
We will continue to deliver our "business as usual" activities as listed in Table 1 below.
Table 1: Our 'business as usual' activities
Activity

Description

Program updates

We will continue to provide guidance to our stakeholders on program requirements by releasing program updates. We will continue to ensure that its content is accessible and easily understandable.  We will consult with stakeholders on all major changes before updating our requirements.

Guidance documents/

Website

We will continue to review and update our guidance documents and our website to ensure that it provides stakeholders with current information required by them to understand their obligations and how to participate under the program. 

Newsletters

We aim to deliver quarterly newsletters to inform stakeholders about program outcomes and upcoming events, and to provide a summary view of program information over the period. 

Stakeholder queries

We will continue to respond to queries from stakeholders in a timely, transparent and consistent manner in accordance with our operational KPIs.

We will maintain and publish a register of decisions made by us to ensure traceability and transparency of decisions made.

Forums

We will continue to hold two forums a year for program participants to provide them with relevant updates on the program and to provide them an opportunity to seek answers from us and provide feedback. 
We also plan to deliver engagement activities as listed in Table 2 below to meet the engagement objectives for the year and to meet the changing needs of the program and our stakeholders.
Table 2: Our additional engagement activities
Activity

Activity Description

Priority

Coronavirus impact/recovery work

To work with stakeholders and other government departments/agencies to:

understand the impact of coronavirus on program participants and what can be done to assist in the recovery efforts
provide timely communication on impact of coronavirus restrictions on the program
assist in delivery of government funded energy efficiency/economy recovery stimulus which leverages the VEU program

High

Engagement with local government

Engage with local government with objective of:

expanding the program into different market sectors while targeting low income and regional areas
promoting public lighting upgrades and identify participation barriers

High

New stakeholder workshops

Engagement/workshops with:

industry peak bodies to promote what we do in order to access new activity opportunities
social housing providers to try to access new markets

High

Current stakeholder workshops

Running targeted workshops for program participants to promote compliance/program understanding.

Medium

Information sharing workshops

Workshops with other regulators such as IPART to share knowledge on compliance issues across programs

Medium

Direct AP engagement

Regular meetings with targeted APs to gather feedback on our processes.

Engagement with Project-based activities (PBA) accreditation applications following the accreditation process to promote compliance/program understanding.

Low
Measuring success
Our measures of success will be:
delivery of timely, responsive and accessible communication of program changes to participants, particularly in respect of coronavirus impacts
increased engagement with industry stakeholder groups and local government to access new activity opportunities
increased engagement with Victorian government to leverage the VEU program in

delivery of energy efficiency stimulus packages
Useful resources
Download a pdf of our engagement plan.